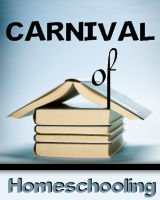 I have read the Carnival of Homeschooling off and on for a couple years, but never participated until now.
This weeks edition of the Carnival, for those Considering Homeschooling is up and ready at
Corn and Oil
.
I hope you can take a minute to read through the post and discover some great new blogs!
Also, you may be interested to know that this is a weekly event and you are welcome to participate! Interested? Be sure to stop by Corn and Oil to find out more information!
Happy Homeschooling!