I love it when I run across websites and online activities that enhance our homeschool experience. This week I decided I'd share three of my favorite finds so you can check them out too.
First off, this is one I'm really excited about, an Online Science Fair, perfect for our traveling family!
Coming March 5th,
The Mac Rac: Everything is a Family Thing
is hosting an online science fair. Registration is free, easy and painless. To learn more about this awesome opportunity or to sign up your student and receive the Science Fair Registration packet stop by their page for details about the
Mac-Cyber Science Fair
to learn how your children can participate.
Looking for FREE resources? What more could you ask for?
This is a great website to help stretch your hard earned dollars.
Free Homeschooling 101
is full of links and websites that offer totally free lesson plans, videos, curriculum and resources for the home educating parents from phonics to chemisty, preschool to college. I really enjoyed the newest post. The title speaks for itself,
Reducing the Pain of Spelling Class.
Need a bit of help in the writing department?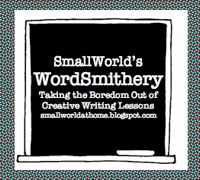 I stopped by
Small World @ Home
and happily stumbled upon these new lessons. So far there are six lessons that begin with creating a journal and follow up with lessons like using powerful words to enhance your writings, similes, metaphors & strong verbs and alliteration and spring flowers. These lessons are geared towards all ages, so get that journal and get started!Did I mention that Small World @ Home is the host for this weeks
Carnvial of Homeschooling: Think Spring
?
There you have it, three fantastic blogs that I have recently discovered. Each able to help out in someway with my homeschooling endeavors. I'll share a few more down the road. In the meantime, I'd love if you'd share blogs that you look to for homeschool help. Happy Homeschooling!