Downtown Norfolk, VA - Waterfront
Tuesday, January 18; 10am-5pm
Homeschoolers receive discounted admission, special programming, goodie bags, a gift shop discount and more at this awesome attraction.
When my husband was working in Virginia, we regularly visited the Hampton Roads Naval Museum (in the same building as Nauticus) and the Battleship Wisconsin. At that time the ship was not yet retired, so tours below the top deck were not available. My children would LOVE to go back and join in on this tour!
Two children admitted free with every paid adult. $10.95 per adult.  3 and under are complimentary.  Topside tours and main deck tours can be purchased for an additional fee upon arrival, first come, first serve.
Please email colby.peck@norfolk.gov for more information or e-mail the following information to colby.peck@norfolk.gov by January 13th to register: name, address, # adults attending, # of children attending, and your email address.
You can find out more about the exhibits at Nauticus and the tours on the Battleship Wisconsin here.
Don't miss out! Make sure you register by the deadline of January 13th.
Houston, TX
January 20; 9am-3:15pm
Appropriate for all ages
Cost is $10 members, $12 non-members
For full schedule of events click here.
Houston, TX
Monday, January 24th; 9am - 3pm
Cost: $8 per person or FREE if you are a museum member.
Open for homeschool families ONLY, students will enjoy discovering the newly expanded museum while exploring science, technology, history, culture, health, environment and engineering hands-on at the ultimate Playground for your Mind™! 
Pre-registration is required and can be done using the  reservation form or fax to 713-522-5747.   More information is available by calling  713-535-7265.
Pre- and post-classroom activities for Pre-K through the 5th grade are available here.
Newport News, VA
Wed. January 26th
From self-guided tours to classroom and planetarium programs, there's something for everyone during this one day program for homeschool families.
Advance registration is required by noon on Tuesday, Jan. 25th. You can register by calling 757-595-9135 or complete the convenient online form.  If you register for classroom programs, you will receive free curriculum support materials.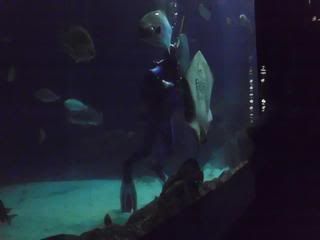 Chattanooga, TN
January 31st
On homeschool day, you can choose to purchase a ticket for the aquarium, IMAX or a combination ticket that includes both. Cost for students will be $6.50 for the aquarium, $5.00 IMAX or $10.25 for a combo ticket to both. Homeschool Parents will pay the following: $22.50 for the Aquarium, $ 7.75 for the IMAX movie or $27.50 for a combo ticket.
Programs will be offered in the auditorium from 11:00 a.m. until 3:00 p.m. and will include the opportunity for a behind the scenes tour for an additional cost of $5.00. Homeschool students and parents will also receive a discount at the Aquarium Gift Shops and you know gift shops always have the coolest things!
The Happiest Place on Earth is hosting Homeschool Days on January 23rd through the 25th.  Disney World will offer a sneak peek of their upcoming nature film, African Cats at the Animal Kingdom Park, with additional Y.E.S. (Disney Youth Education Series) programs that you may choose to select for an additional fee.  Disneyland will also offer special programs for homeschool families. Follow this link to find out  more about this exciting offer!
And don't forget these ongoing Homeschool Days:
Carlsbad, CA
Legoland takes Homeschool Days a bit further by offering discounted admission on select Mondays throughout the year for homeschooling families who register prior to their visit. If you're planning a trip to Legoland, make sure you take the time to check this out.
Petersburg, KY minutes from Cincinnati, OH
Between Jan. 4  and Feb. 24, 2011, each Tuesday, Wednesday, and Thursday's are Homeschool Days. Admission to the Museum is a great deal at only $12 for adults (13 and up) and $8 for children (5-12).  The Stargazer's Planetarium is also specially priced at only $5.
Do you know of any Homeschool Days that are offered in your area? Please leave a comment below- I'd love to add to this list.