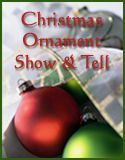 When I read about the Christmas Ornament Show & Tell that Jolanthe is hosting at No Ordinary Moments, I just knew that I wanted to participate! How fun is that? To share the ornaments that are near and dear to our hearts. And then I remembered. I don't have any Christmas ornaments anymore.
Every since the kids were old enough to help us decorate the tree, we've had a tradition in our home that I loved. We'd gather all our Christmas ornaments around our artificial tree and I would tell my children the story of each ornament, they were all so special. Some of the ornaments had been lovingly made from my great-grandma's arthritic hands. Beautiful beaded creations. Angels, Christmas Bells and Icicles. My kids loved the way the beads shimmered when placed in front of one of the tree lights.
When I was a teenager, I began collecting ornaments. Each year after Christmas I would visit expensive department stores and I would purchase a couple special pieces. Most of these were beautiful cloth ornaments in rich burgundy and mauve colors. Victorian style ornaments with lace and ribbons. I loved pulling them out of their individual boxes and watching my children's eyes glow.
And yet, some of my most treasured ornaments were simple, dough ornaments formed with my own children's then tiny hands. They carefully decorated and painted them ever so carefully as I shared the story of Christ's birth and the true meaning of Christmas.
As I write this post I can't help become a little bit sentimental and even teary eyed as I think of those precious memories. Several years ago, our area experienced terrible flooding. One morning I awoke to a gushing in our basement, water was pouring in. Though we were able to save a few items, almost all our ornaments were  lost.  We lost some of our possessions, other's lost their homes.
I've thought about beginning another collection, a new collection but it's just not the same. We have a few pieces waiting for us in storage and I'm sure I'll treasure them all the more when I see them again.
Last year we were in the camper so we bought a tiny tree that was already decorated. Not very exciting but it served the purpose. This year, the first year back in a house, the kids really wanted a tree. Mentally I began adding up the cost of a tree and decorations….we didn't have anything.
So, I did what I always do. I visited the local thrift store and I found EVERYTHING that I needed. Wow. The Lord really takes care of us, doesn't he? Not only did I get a beautiful tree with lights, I also got all of our ornaments (in just the exact colors we wanted), a star for the top of the tree and lights for outside. When we lived in Ohio as long as I could remember I wanted to decorate each of the front windows with those fake candle lights and a wreath. It seemed as though I just never had the extra money at Christmas, but this year I found EVERYTHING that I wanted- including brand new Christmas cards and a Santa hat and beard for our dog for under $60.  The only thing I haven't found is a tree skirt but I've been so blessed with everything else I found that it doesn't bother me one bit. 
 Our stash
 Decorating our tree 
Everyday I wake up and the first thing I do is turn on the lights of the tree. My tree may not be filled with the same one-of-a-kind ornaments that I once had, but when I look at the tree now it's not with sadness over what's missing, or lost, I look at the tree and I'm amazed at the Lord's provision and blessings.
This year we have the opportunity to build new memories, in a new home …TOGETHER. 
What more could I ask for?